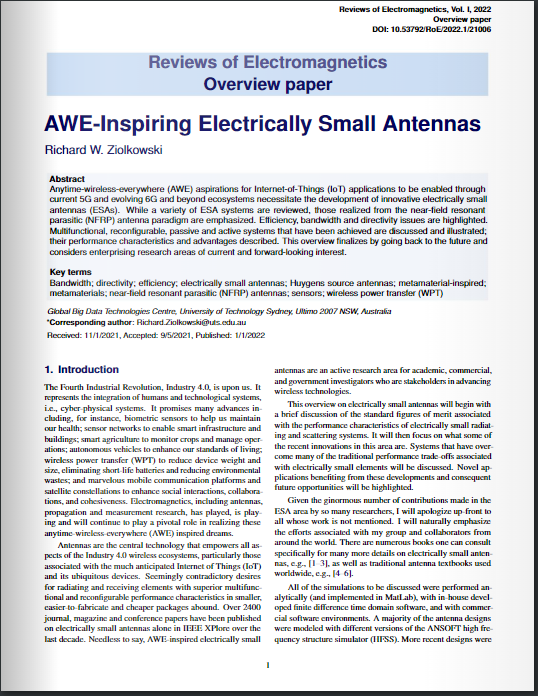 OVERVIEW
AWE-Inspiring Electrically Small Antennas

Author: Richard W. Ziolkowski
Abstract: Anytime-wireless-everywhere (AWE) aspirations for Internet-of-Things (IoT) applications to be enabled through current 5G and evolving 6G and beyond ecosystems necessitate the development of innovative electrically small antennas (ESAs). While a variety of ESA systems are reviewed, those realized from the near-field resonant parasitic (NFRP) antenna paradigm are emphasized. Efficiency, bandwidth and directivity issues are highlighted. Multifunctional, reconfigurable, passive and active systems that have been achieved are discussed and illustrated; their performance characteristics and advantages described. This overview finalizes by going back to the future and considers enterprising research areas of current and forward-looking interest.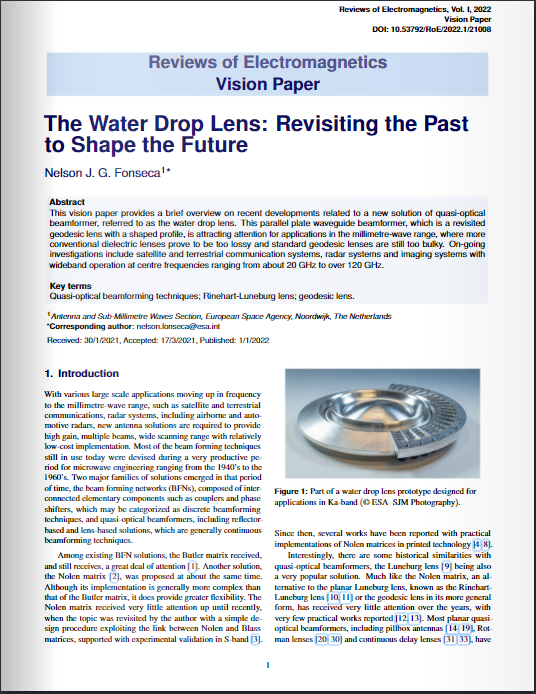 VISION
The Water Drop Lens: Revisiting the Past to Shape the Future

Author: Nelson J. G. Fonseca
Abstract: This vision paper provides a brief overview on recent developments related to a new solution of quasi-optical beamformer, referred to as the water drop lens. This parallel plate waveguide beamformer, which is a revisited geodesic lens with a shaped profile, is attracting attention for applications in the millimetre-wave range, where more conventional dielectric lenses prove to be too lossy and standard geodesic lenses are still too bulky. On-going investigations include satellite and terrestrial communication systems, radar systems and imaging systems with wideband operation at centre frequencies ranging from about 20 GHz to over 120 GHz.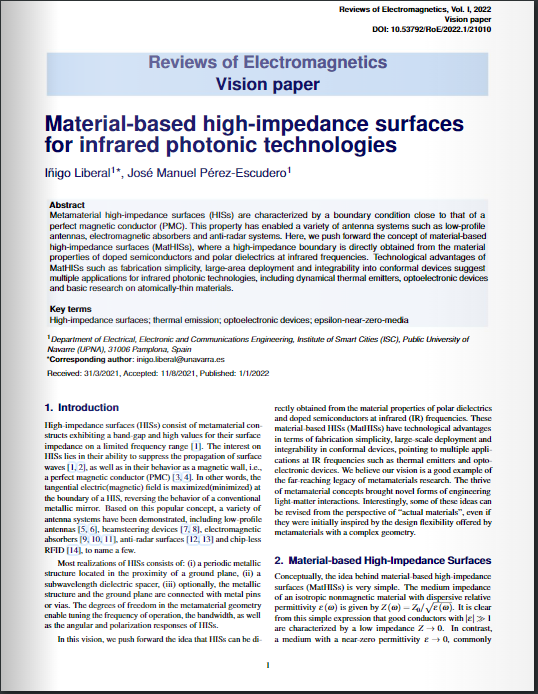 VISION
Material-based high-impedance surfaces for infrared photonic technologies

Author: Íñigo Liberal and José Manuel Pérez-Escudero
Abstract: Metamaterial high-impedance surfaces (HISs) are characterized by a boundary condition close to that of a perfect magnetic conductor (PMC). This property has enabled a variety of antenna systems such as low-profile antennas, electromagnetic absorbers and anti-radar systems. Here, we push forward the concept of material-based high-impedance surfaces (MatHISs), where a high-impedance boundary is directly obtained from the material properties of doped semiconductors and polar dielectrics at infrared frequencies. Technological advantages of MatHISs such as fabrication simplicity, large-area deployment and integrability into conformal devices suggest multiple applications for infrared photonic technologies, including dynamical thermal emitters, optoelectronic devices and basic research on atomically-thin materials.